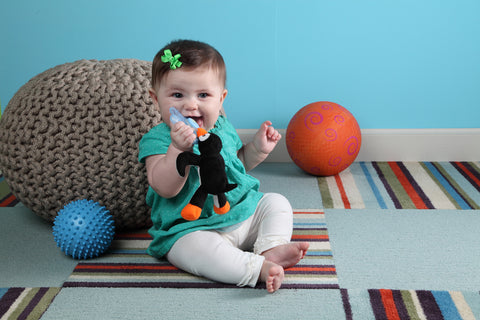 Teething and feeding can have an uncomfortable relationship. Kids need teeth to chew and digest their food properly, but for infants, teething can interrupt their feeding ability and make breastfeeding a new challenge for both mom and baby.
Understanding Teething
Teething can happen at different times. In rare cases, babies are born with some hint of teeth. More commonly, some teeth will start to erupt past the gums around six months old. This can lead to many symptoms, including:
Drooling
Redness or rash on the gums and cheeks
Lots of biting activity from baby
Difficulty latching onto the breast for feeding
Fussing and difficulty sleeping because of the pain
Fever
Loose stools
A trip to the doctor can help confirm the issue is teething and offer some advice.
Teething and Feeding
While teething is a natural part of development, it can also cause some unique challenges with feeding. For breastfeeding mothers, feeding may begin to feel uncomfortable. The baby may latch on differently or use a different head or mouth position.
Another challenge happens with biting. As the baby starts to bite, they may bite the nipple of bottles or pieces of food, which can cause a choking hazard. 
What to Do
If you are breastfeeding, you may want to experiment with different feeding positions to find the one that's right for both of you. Make sure the baby is latching correctly and use soothing, cool teething devices to assuage any pain.
Some babies will want to feed more often and for shorter periods while teething. You may need to get used to a new routine. In some situations, the baby may feel enough pain that they may not want to nurse. In these cases, you may wish to supplement with formula while you work on different positions and coaxing the baby back to feeding. You may also wish to visit the doctor if your baby's feeding is being affected by teething.
If baby bites, say "no" and pull the baby closer to you. In many cases, this will be enough to make the baby release from the bite. You may wish to set the baby down before trying again. In situations where the baby continues to bite, you may want to get some advice from a doctor.
Solid Foods and Formula
If your baby is getting a bottle or eating solid foods, consider switching to soft foods such as puree. You don't want them to bite something solid and swallow it. Soft foods will not irritate the mouth, and warm or cool foods can actually soothe the area.
If the baby gets a bottle, check the nipples of the bottle carefully before every feeding and consider changing them more often. With small teeth, the material can get damaged sooner.
Nookums® Paci-Plushies Chillies™
Nookums® Paci-Plushies Chillies™ are another option to consider when teething. The Paci-Plushies Chillies are ridged devices designed for little hands. They can be chilled in the fridge, so the combination of cold and ridges soothes gums. Paci-Plushies Chillies attach to the Nookums plush toys, so they make a nice update from a pacifier. The plush toys keep baby's hands warm and give them something to hold onto while they chew and play with the Chillies.
Safer than solid foods and more hygienic than flannel or the household items your baby may want to chew, Paci-Plushies Chillies help soothe the teeth and offer a safe chewing surface, which is easy to keep clean. These Chillies also help children explore texture.
Take a look at the full Nookums selection of products or contact us if you have any questions.