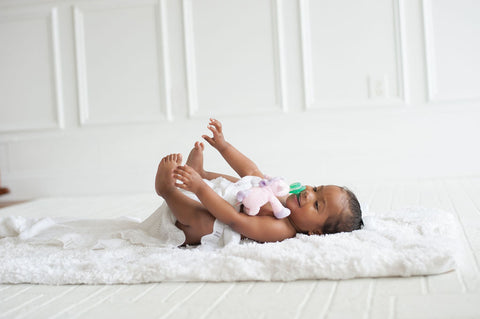 Moms deserve plenty of gifts and support, but if you're looking for gifts for new moms, you may not want to send the same gift basket, toys and flowers everyone else is. Here are some ideas for ways to help a new mom celebrate:
1. Baby and Mommy Classes
Baby and mom yoga classes, swim classes and other options are a fun way for mom and baby to spend time together in a new environment.
2. Photo Shoots
A professional photo session can make mom feel like a star and will create a permanent memento to share with friends and family. 
3. Grocery Delivery
Paying for groceries to be delivered helps save time a new mom might need to rest. It's not only a time-saver, but ordering online can be convenient. Having a few grocery trips covered can also help the newborn budget stretch further.
4. Monitors
It can seem like mothers have eyes in the backs of their heads, but back-up monitors are always helpful, so parents can keep an eye on their kids at all times.
5. Foot Spa
Mom's feet tend to take a beating when caring for a little one, so a foot soak spa and some nice bath products can be a quick pick-me-up.
6. Spa Gift Cards and Babysitting
Once parents are ready to be away from their infant for a few hours, some babysitting and a visit to the spa for pampering may be just what the doctor ordered. A spa can let parents unwind, look their best and get massages and other treatments for aching muscles.
7. Subscription Boxes
This is the gift that keeps on giving. By signing parents up for subscription boxes, they get new treats and baby essentials every month.
8. Nice Bathrobes and Pajamas
The first few weeks at home are usually spent in loungewear or pajamas. Silky or whisper-soft cotton options are soothing and pampering. A cute robe also helps parents look presentable for any unexpected visitors.
9. Baby Accessories
Gliders, toys, cribs, car seats, tote bags, diaper bags, changing tables and more — infants need a lot of "stuff," and it can be nice to show up with some of the essentials, so parents don't need to pick it all up themselves.
10. Weighted Blankets
Weighted blankets are very popular as a way to soothe away stress and feel more comfortable. They can help with the first few weeks of jitters and ensure parents get a good night of sleep, too.
11. Memory Capturers
Parents want to capture all those precious "firsts" of baby's life, and you can help by gifting frames, cameras, scrapbook kits and more. Anything that helps capture memories will be appreciated, including gift certificates to transform baby photos into mugs, portraits and t-shirts.
12. Coffee
New parents function on the bare minimum of sleep. Coffee, coffee shop gift certificates and coffee accessories will help parents get through those first weeks or months before the baby starts sleeping through most of the night.
13. Errands
Pay for a cleaning service or team up with friends to tackle some of the basic errands on mom's list. From taking her car in for maintenance to running across town to pick up laundry, help with errands gives parents the gift of something hugely valuable — more time.
14. Nookums® Paci-Plushies
Every baby uses a pacifier, but the Nookums Paci-Plushies take the experience to a new level. By allowing an infant to grasp a fun plush toy attached to a pacifier, Nookums makes finding a pacifier easy. Just look for the toy! When it's time to move away from the binky, children get to keep their favorite animal toy, which helps make the inevitable transition easier.
Take a look at the Nookums selection of options to find the perfect gift for mom or contact us today to learn more about our Paci-Plushies.